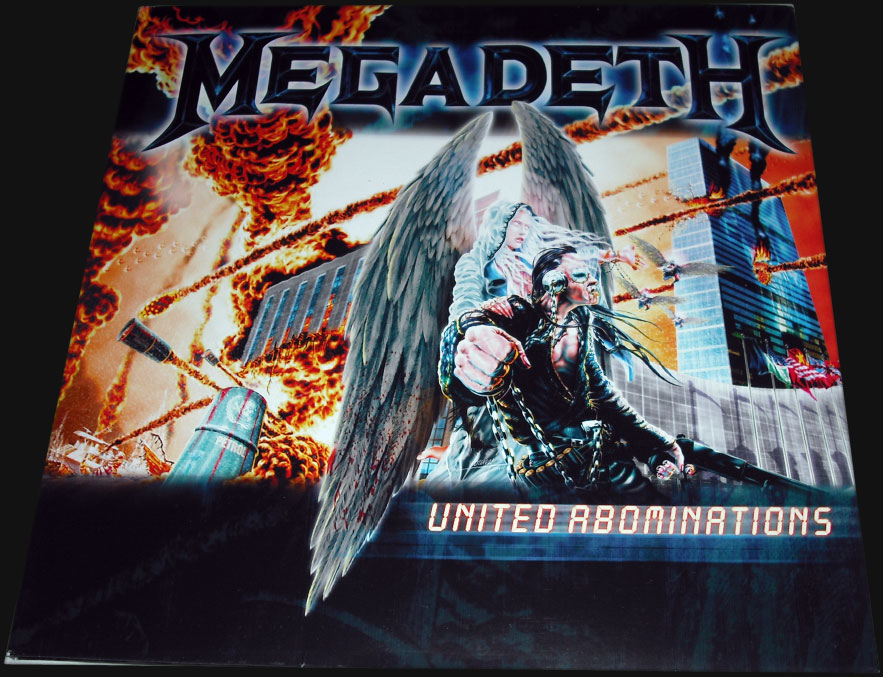 Megadeth - United Abominations (2007)
Article originally published on metalonvinyl.net on 23rd November 2010.
After their experiment with a mainstream rock sound that was presented on the Risk album, and the album that Mustaine considers a turnaround album in The World Needs a Hero, Megadeth follows up 2004's The System Has Failed with an album that harkens back to their earlier days. The hard edged riffs, speed and killer hooks that made Megadeth a force to be reckoned with in the 80's and early 90's is back, alive and well.
Lately, in what seems to be a different band member line-up for each consecutive Megadeth release and tour, Mustain has pulled together Glen Drover (Eidolon, King Diamond) on guitar, James LoMenzo (White Lion, Black Label Society) on bass, and Shawn Drover (Eidolon) on drums.
As usual, Megadeth unleashes their attack on United States bureaucracy, and after a quiet build up and then immediate exploding guitar riff in the intro to the first track, Sleepwalker, there is no misunderstanding where their frustrations are directed. This theme follows through to the rest of the album in traditional Megadeth fashion, with tracks like Washington is Next!, United Abominations, Gears of War, and Amerikhastan further outlining the themes of war, hidden agendas and political corruption.
One track that does stand out from the rest, and seemingly almost in a nod to solidify the fact that Megadeth has returned to their roots, Mustaine has decided to cover one of his own classics. A Tout le Monde, from 1994's Youthanasia appears on United Abominations in the form of A Tout le Monde (Set Me Free). This time around, Mustaine teams up with Cristina Scabbia of Lacuna Coil to perform a duet; a definite rarity in the realm of thrash metal. Few bands would be able to pull it off, but Megadeth have managed to nail it with the help of one of Italy's most prominent female metal artists.
Packaging and Sound Quality
Pressed on standard 33rpm black vinyl, the album is presented in a fairly standard cardboard sleeve which opens up to display a beautiful piece of artwork. Artwork is especially significant in this release as it was selected from a competition held by DeviantArt in the year prior to the album release. Interestingly, the artwork present in the release was not the winner of the contest, but was picked by Mustaine as his favourite.
Clearly a different master to that of the compressed CD; it has much of the dynamics and separation that is present on a lot of the older, "premastered" albums of Megadeth's past.


I did have one issue with the beginning of the first track on Side A. Sleepwalker, with it's clean, soft guitar line which builds progressively with drums and then into guitar distortion, is marred by a ticking noise that is present about every second or so. The noise fades by the time Mustaine's vocals begin, which leads me to believe that it may just have been a result of a small scratch on the outer edge of the vinyl. Hopefully it's not a result of an imperfection that is present on the metal master record. Luckily, the rest of the album has no troubles whatsoever.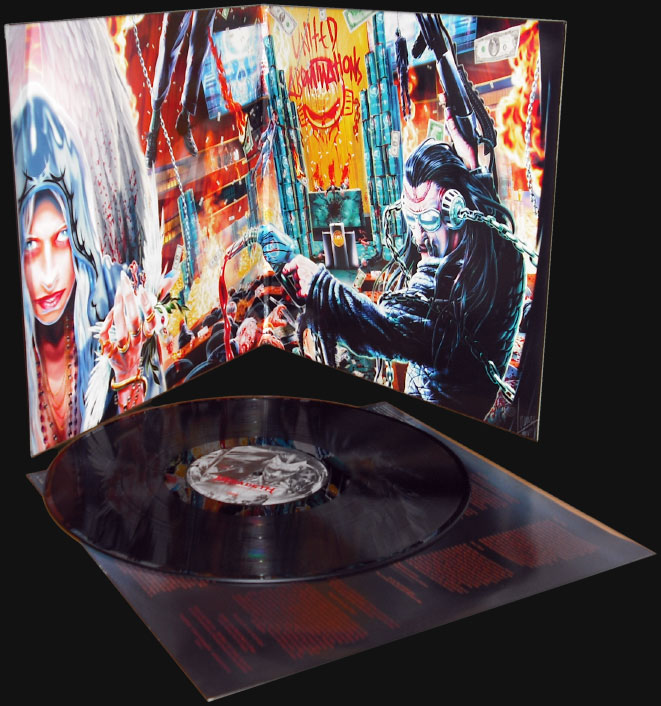 In any case, the imperfection wasn't hard to get rid of manually using a combination of ClickRepair and Audacity.
All in all, this is Megadeth's best attempt in at least the last fifteen years, and any fan of the band, or even any fan of thrash, must listen to this album.
Music:
Excellent Megadeth, back to what they do best: quality thrash.
9/10

Packaging:
While simple packaging, the artwork alone makes the album worthwhile picking up.
7/10

Sound quality:
Only a minor annoyance with a tick at the start, but otherwise top notch.
8/10

Final thoughts:
For Megadeth die hards or fans of thrash in general, this is a worthwhile album from one of the genres all time greats.